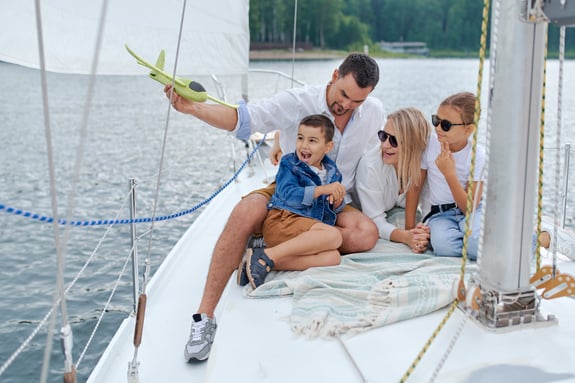 DELIGHT EVERYONE YOU CARE ABOUT
There are many yacht brokerages that boast of being the biggest name, the oldest company, or simply saying that they are the most trustworthy. We believe, it's much more about you, the owner, your spouse, your family, your captain, your friends. and my priority is to bring value to you and the people you care about.
Ben Oaksmith grew up on the Great Lakes and carried his passion for nautical adventures with him to Seattle.
Ben's life on the water began at age five, participating in an annual fishing season opener in northern Minnesota; he never looked back. On motor boats and yachts throughout his young life, he developed a love for boating. In his teens, an interest for sailing first led to racing dinghies and then learning how to sail and race larger boats.
He has parlayed that experience to boating on the Pacific, the Caribbean, the Great Lakes, the Gulf of Mexico, countless inland waterways and is currently investigating the Puget Sound on his own boat.
Today Ben Oaksmith is the Principal of Oaksmith Yachts a boutique yacht sales and brokerage firm that specializes in partnering with clients and everyone they care about to achieve elevated experiences on the water.
Dustin is a highly experienced yachting professional with extensive knowledge to discuss a range of yachts, designs and systems.
His expertise and vast network of industry contacts benefit the most discerning yachting enthusiasts, having operated as yacht manager, refit and project manager, charter and delivery captain for a wide range of luxurious motor and sailing yachts.

Dustin grew up in the Southeast United States. From the time he was young, he was sailing, fishing, skiing and enjoying being out on boats. Upon moving to Florida in high school, he found a true love for all things related to the ocean. Dustin soon found opportunities in the Caribbean, where he bought his first sailing vessel in the Spanish Virgin Islands. His adventures took him across the Atlantic in his early twenties where he lived and worked in the south of Ireland at the Royal Cork Yacht Club. Upon his return to the Caribbean he sailed his boat to the US and British Virgins and started working as captain on week long charter vessels, dive boats, day cruises, and private yachts.

Running a 65' schooner, Dustin met his wife, who soon became the chef and mate on the yachts they ran for over a decade together. As a 200T US Coast Guard captain and MCA Yacht Master, Dustin has over twenty years of experience captaining luxury yachts ranging from large sailing catamarans to super yachts up to 130'. These vessels have taken him from Maine thru the Panama Canal and up to the Pacific Northwest where he calls home with his family. Dustin's diverse knowledge of power and sailing yachts has given him a solid foundation to advise, assist, and follow through on making the best decisions for his clients. His knowledge of onboard systems (ABYC & NMEA certified) benefit clients in the purchasing process and years after they are happily underway.

When Dustin is not helping his clients, he enjoys mountain biking, paddle boarding, crabbing and enjoying all life has to offer with his family. In the winter, he enjoys skiing, snow shoeing, and getting out on the water. Where else can you ski on the mountain and boat back to your house!

Give Dustin a call and let's talk boats!
Oaksmith Yachts
A passion for nautical adventure
To delight our customers by selling a lifestyle through premium, refined, and high efficiency adventure and expeditionary yachts to intensely successful, adventurous, environmentally minded and socially conscious buyers.
Our vision is to make sure you and everyone you care about, your family, friends, skipper, and dog, is delighted because you decided to buy or sell a yacht with us.
Oaksmith Yachts is driven by authentic service, premium taste and problem solving solutions. Whether you are buying or selling a boat, our team is here to help you explore all your options to help you and yours find your next adventure on the water.